Need helping picking colors for your home? Read further to learn some helpful hints on how to choose a paint color for a room or exterior. Or if you'd like to touch up an existing paint color, check out our wikiHow.com article on Touch-up Painting.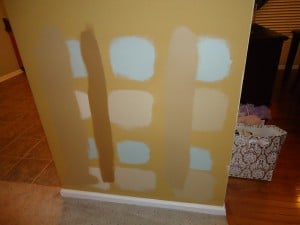 Visit the Paint Store
A quick visit to Sherwin-Williams, Benjamin Moore or your local home supply store can be a very helpful first step to picking the right color for your home. The local paint reps at these store can help order sample colors for you to test out.
Local Paint Stores
Pick Up Paint Swatches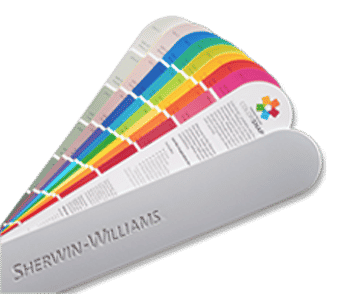 Most paint stores have an entire wall of color swatches. From light whites to the deepest blues and bright reds, there are 1000's of colors to choose from.
Some of the color swatches have more than one color on them. If there is a base color you are looking for, look at the bottom of these multi-color swatches.
The bottom color is typically the darkest color on the swatch, and this is the base color. As you go up the color swatch, the color gets lighter and lighter.
The base color is important to consider because this will help you decide if the lighter colors are more of a "blue" or a "grey".
Too Light or Too Dark
The colors at the very top of the multi-color swatches may fall into the 100's of "whites" to choose from. These colors be a bit too light if you want to see the contrast between your ceiling and trim (baseboards, door & window frames).

Paint Samples
On the flip side, the base colors at the bottom of the swatch may be a bit too dark for most rooms. When picking a dark color, consider how much light the room gets. Dark colors can work really well in rooms with a lot of windows. They also work well in rooms with light-colored wainscoting, such as a dining room or bathroom.
When choosing paint colors, those little paint swatches don't always look the same as the actual color. Once you have a few colors picked, it is time to get some samples.
Peel-and-Stick Samples
Check out Samplize.com to order 12x12in samples of your favorite colors for about $6 each. They use the actual paint companies paint to make the samples and they can be moved to different areas of the house. Different lighting plays a big role in how the color will actually look in the home (more on this later).
1 Quart Samples
Most paint companies have 1-quart samples that will allow you to paint up to 75 sqft. This is one of the best ways to see how the paint will actually look once the painting project is completed. Here are a few helpful hints for how to choose the right paint color using samples:
Paint Sample Helpful Hints
Apply two coats of paint. The first coat of paint acts as a primer and the old wall may still be showing through. The second coat will give a more uniform finish and a better representation of the actual new color.
Paint the samples on multiple walls in the same room. Each wall gets different lighting, so the paint color may look a little different on each.
Paint the samples near a window or door frame. When the paint is applied near white trim, this gives you the best idea of the actual paint color.
Keep in mind most samples are a satin finish. Satin is one of the shinier finishes, about one step down from the shiny semigloss on your trim. Satin can also look a little darker than the color in a flat finish.
Don't want to put paint on the walls? Order some sample boards that work like the Samplize Peel and Stick samples.
Lighting
When choosing paint colors for your room, the lighting plays a big role. Just like paint colors, lighting comes in a variety of options. There is warm lighting that has a yellow tint, and there is cool lighting that appears more white or blue. For more information about lighting, check out IlluminationUSA.com.