Patch and Paint Pros has been proudly serving the Ardmore area with our five-star service for years. Patch and Paint Pros was started by Montgomery county native, Ryan Owsiany, and is still located only short drive away in Conshohocken. Our dedication to customer satisfaction and hard work has helped us become the go-to painting company in Ardmore!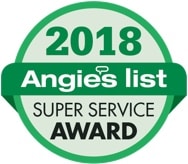 Best Painters in Ardmore PA
Patch and Paint Pros is one of the best painting companies near Ardmore, PA. Our Painters have earned top ratings on all the business listing websites. We take pride in our work and promise to stay in good communication throughout the drywall or painting project.
Room Setup & Cleanup Included
Our team of professional painters will be sure to cover all flooring and furniture before starting work in any room. After the painting, we'll clean thoroughly and help put the furniture back where we found it.
Top Rated – Interior Repairs & Painting
We are the proud recipients of Angie's List 2018 Super Service Award for multiple services: Interior Painting, Drywall Repair and Smoke and Water Damage Repair! Patch and Paint Pros has received this award every year thanks to our basic company principles. Good communication, hard work and cleanliness help us to be the go-to painting company in Ardmore!

Quality Ardmore House Painters
Painting and dry wall repair are important issues to tackle and should not be left to the amateurs, so trust the Patch and Paint Pros. We guarantee our clients satisfaction and stand by the work that we produce. Our high-quality products from top brands and commitment to safety and consistency make us the best in the business!
Look no further to find your award-winning Ardmore painters! You're in the right place with Patch and Paint Pros, and we can't wait to help with your next painting project! Contact us: Call (484) 483-3468 to speak with one of our interior painters in Ardmore today or email us at estimates@pale-letters.flywheelstaging.com.
Customer Reviews:
"Ryan came out for the estimate – he was very observant & pointed out areas which needed fixing, some of which I hadn't noticed. Ken and Greg did a great job – they were detail-oriented, friendly & pleasant. They reviewed the progress made at the end of each day, addressed all my questions and met my expectations. The rooms look great!"
– Review Written by Gillian M. – Ardmore PA(angieslist.com)
Paint Stores near Ardmore, PA:
Sherwin-Williams Paint Stores
2525 Haverford Rd, Ardmore, PA 19003
Phone: 610-896-8588
526 Lancaster Ave, Haverford, PA 19041
Phone: 610-519-9000
Ricciardi Brothers – Benjamin Moore Paint Store
2340 Haverford Rd, Ardmore, PA 19003
Phone: 610-642-3223