Ready to Get Started?
Our estimate is our contract. If everything looks good, please reply to the painting estimate email that you are ready to move forward and start scheduling. It's that easy!
Project Scheduling
For

flexible projects

, a week is first offered and then an actual start date will be determined the week before. Flexible projects also have the opportunity to move up to the first available opening.
Starting the Project:
We prefer for the homeowner to be present or available by phone for the start of the project. If you can not be home, a lock box code or spare key arrangement can be made.
Do I need to be home?
No, you do not need to be home for the duration of the project. But we do prefer to walk thru the project with you at the beginning and end.
Project Hours & Scope Review:
Our crews generally work from 7am to 3:30pm or 8am to 4:30pm, Monday through Friday.
Before the project over, one of our project leaders will walk through the project scope with you to verify all work done meets your expectations.
Scope of Work:
We will provide all repair and painting services as described in the attached estimate. All costs are included – labor, materials, tools and equipment. Additional items may be added or removed upon request. Please let us know if there are any questions about the scope of work.
Included Items:
Moving furniture (unless noted otherwise)

Covering floors with drop clothes or protective paper

Covering furniture and belonging with new plastic

Vacuum and clean before re-setting furniture

Leave leftover tinted paint with room name noted on lid
Pre-Project Checklist:
Select paint colors & finishes (more info below)

Clear small items from countertops, tables and shelving

Take down curtains and draperies

Remove towels and rugs from bathrooms

Unplug TVs and other electronics

Make arrangements for pets

Empty closets (if included in your estimate)

NOTE

– Pianos, Peleton bike, grandfather clocks and other delicate/heavy items should be moved by homeowner or moving professionals
Keeping the curtains and blinds?
Please let us know if you'd like to keep curtains, blinds and wall decorations in the same place or we can remove the screws and nails to patch over any holes.
Repair and Painting Estimate FAQ
Is paint included in price?
YES – Pricing for Sherwin-Williams and Benjamin Moore paint brands is included in the painting estimate. Other paint brands may be used upon request.
Do we purchase paint or you?
We'll purchase and pick it up. We just need to know the color and finish. More information below about selecting colors and finishes.
What repair work is included with the painting?
Repair of small holes and shallow wall defects is included. Repair of larger defects, cracks, and drywall installation will be written out under the Repairs section of the estimate.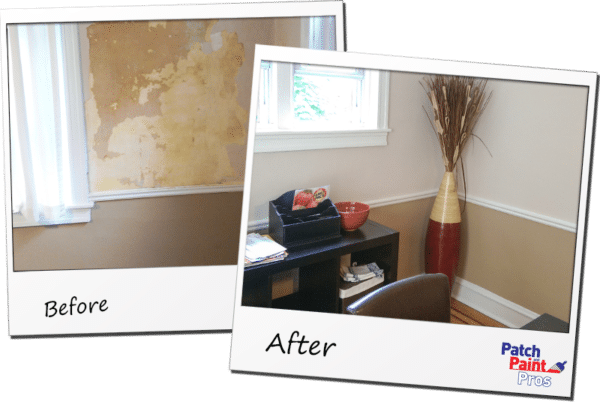 Payment Methods:
Patch and Paint Pros LLC
263 E Elm St, Unit B
Conshohocken PA 19428
Venmo Account: PatchandPaintPros
PayPal

– Send payment to

ryan@patchandpaintpros.com

Credit Cards

– Upon request, an invoice will be sent with a link to pay
Additional Work:
Once the project has started, additional work not listed on the estimate may be requested or required. Additional work may be done once an updated estimate is approved by the client. Let us know which areas you would like to add and we will get you an updated estimate ASAP.
Finishing the Project:
Your project crew leader will keep you posted on progress and estimated completion date throughout the job. Please try to be available on the last day to do a final walk through with the project leader. If anything needs touched up, please let the project leader no so it can be taken care of prior to the final clean-up.
Something missed?
If you notice something after the crew leaves, no worries. You can contact your project leader directly or call our office at 484-483-3468 to let us know. We will work with your schedule to have someone back out to take care of any loose ends.
Meet the Office Staff
Your Satisfaction with the Project is our Top Priority.
Please give us a call if If there are any questions about the extent of work included in your estimate. We would be happy to discuss in more detail.
Thank you,
Ryan Owsiany – Owner & Founder
484-844-5880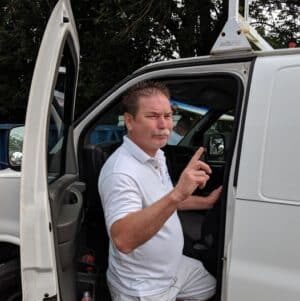 Ken Hoffman – Estimator
267-615-1177
Meredith Hyde – Project Scheduling
484-483-3469
Janice Brasher – Office Manager
484-483-3468 (Main Office Number)
Color Selection and Setup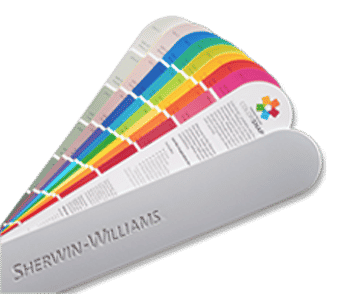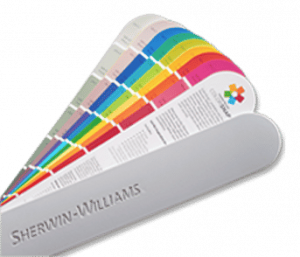 What colors are included?
One color ceiling and trim paint is included. The estimate includes only one wall color per room, unless accent walls are listed.
When do colors by need to be picked by?
It is best to have colors picked out a week in advance of the projects.
What to do around the house to prepare for a painting project?
We'll handle moving the furniture and big stuff. We would greatly appreciate it if you could put away all smaller items and take down wall decorations. Time Saver Discounts available for having all rooms emptied and/or completely setup for painting.
More on Colors & Finishes:
High Quality Paint – Once the project is approved, our painters get to work and aim to finish any project in a timely fashion, using only the highest quality paints from Sherwin-Williams and Benjamin Moore.
Colors and finishes are needed before we start a project. Patch and Paint Pros has a standard ceiling and trim white from Sherwin-Williams that we use on the majority of our projects.
Ceilings: ProMar Ceiling White – Flat

Trim: Extra White SW7006 – Semigloss

Walls: Duration Paint – Your Choice of Color & Finish (more info below)
We prefer colors from Sherwin-Williams and Benjamin Moore, but can match colors from any other company. Let us know which colors and finishes you would like for each room.
HINT: Pick up some samples from your local paint store and put some color on the walls. Small paint swatches do not always look exactly like the actual paint due to lighting and finish selected.
Color Selection Examples:
Room – Color Name – Color Number – Finish
Hallway – Accessible Beige – SW7036 – Flat

Bathroom – Revere Pewter – HC-172 – Satin
Paint Finishes Examples:
Flat 
Ideal for Ceilings and Most Walls

No shine

Easy to touch-up 
Matte
Good for Kitchens, Living Areas and Bathrooms
Similar to flat with slight sheen
Washable
Satin
Good for Bathrooms
Very

Washabl

e
Semigloss
Good for doors, windows and other trim. 

Cabinets
Bathrooms with moisture issues
Need more help deciding on which finish is the best to use in a bedroom, bathroom or living area? – Check out this article from Sherwin-Williams
Wallpaper, Water Damage and Drywall Repair Questions
Why is my ceiling paint bubbling and peeling?
A leak from the bathroom plumbing above.
A leak from the roof or window above.
The ceiling was not painted properly.
Check out our page about what do when you have water damage ceiling or walls to learn more.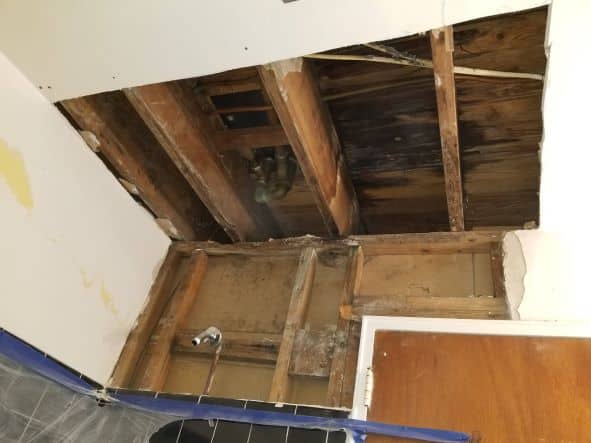 Why is my bathroom paint peeling?
The key to prevent peeling in a room with lots of moisture is priming and two coats of high quality paint. This insures waterproof barrier between the drywall and the moisture in the bathroom.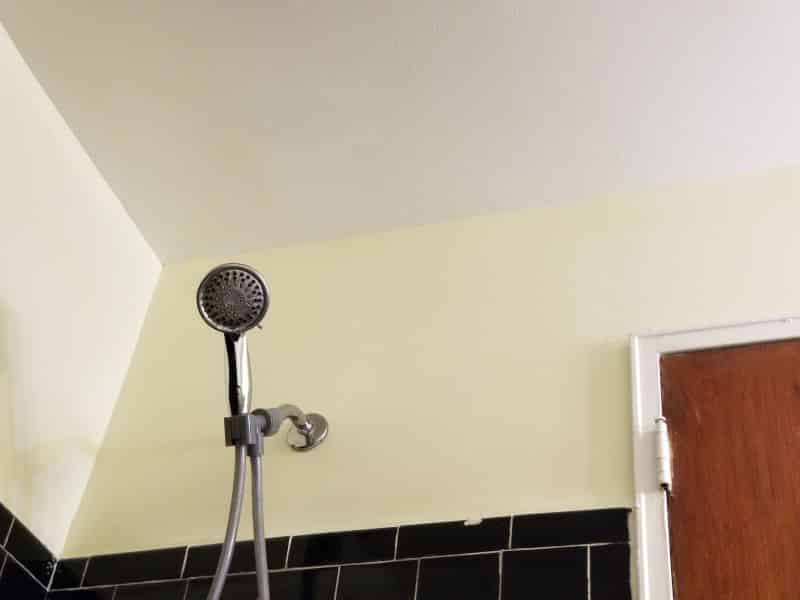 What is causing the water damage on my walls?
Failing stucco, cracked brick mortar and old window seals can be the likely cause of blistering or peeling paint on exterior walls of the house. Water damage on interior walls is likely from plumbing above or roof leaks.
Can wallpaper be painted over? Benjamin Moore says it can…
Simple answer – Wallpaper SHOULD NOT be painted over, but it can be done.
Detailed Answer – Wallpaper is tricky situation. The wallpaper will eventually fail some day and cause future removal to be much more difficult. The paper typically starts to peel only in corners or at edges of the paper and ceiling. This generally happens when moisture softens the original wallpaper glue underneath.
This can happen from steam inside the bathroom when there is not a good moisture barrier (primer and full two coats of paint) protecting the wallpaper. The other reason wallpaper may peel in the future is when there is a moisture issue from inside the walls or ceiling. If that is the case, it may be time to call roofer or plumber.
Painted – If the wallpaper has already been painted, the damage has been done. We can skim the lines and repaint to make it look smooth. Should not have any issues unless there is a moisture issue from inside the wall.
Unpainted – If the paper has not been painted over, it is best to just remove it. The process of skimming every seam, oil priming and then painting over takes almost as much time as just removing the non-painted wallpaper.
Closets – This is the one space of the house, that should not be a deal breaker for a potential buyer. This future project could likely be passed on to the next buyer. Who knows, they may even like the "character" it adds to the house.
If you have any additional questions, feel free to give us a call (484)483-3468. We're always happy to help!