House Painting Company 19087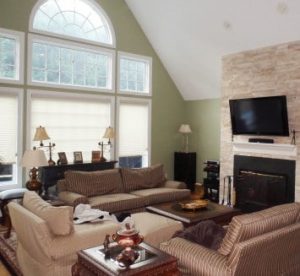 This painting project was completed in two parts. The owners of this beautiful home in Wayne PA need a painting company. They read some online reviews and contracted Patch and Paint Pros to paint their living room and foyer.
They were so pleased with the final results that they asked Ryan and his team to come back to paint the rest of the house.
The Paint:

The walls to be painted were in great condition, so owner's chose a soft satin finish,  also sometimes known as eggshell.
Sherwin-Williams and Benjamin Moore colors were used throughout the house. 

Living Area Color Ideas:
Foyer: Suede Brown (Ben Moore #2101-10)

Dining Room: Flower Pot (Sherwin-Williams)

Living Room: Sage Green (Sherwin-Williams)

Additional Bedrooms & Bath Colors:
Jacob's Room: Leisure Blue (Sherwin-Williams)
Boy's Bathroom: Flower Pot (Sherwin-Williams)
Treyburn Neighborhood Notes
This house painting project was done in the upscale Treyburn neighborhood, in Chester County,PA. The Treyburn neighborhood was constructed by Bentley Homes. People camped out the night before the opening of the Treyburn housing development in Wayne, PA. This was necessary to ensure their purchase of a home in the new, luxurious neighborhood. That next day the builder sold a total of 17 homes in just 2 hours.
Have a home that needs some COLOR?
Contact us today for a  Free Painting Estimate. or Call 484-483-3468