Patch and Paint Pros is a top rated painting company near Bryn Mawr PA. Located just across the river in Conshohocken, the Pros are your one stop shop for drywall repair and painting services.
Locally Owned & Operated Painter
Patch and Paint Pros was founded in Conshohocken in 2011 by Ryan Owsiany. Their professional painters and drywall contractors go above and beyond to ensure client satisfaction on every painting project near Bryn Mawr, PA. 
19010 Painting Service Area
See what our clients have been saying by clicking the map below.
estimates@patchandpaintpros.com
Patch and Paint Pros LLC
263 E Elm St, Unit B
Conshohocken, PA 19428
Drywall & Painting Services
Patch and Paint Pros offers a variety of home repair services to go along with painting. Some of these services include water damage repairs, wall and ceiling repair and drywall ceiling installations.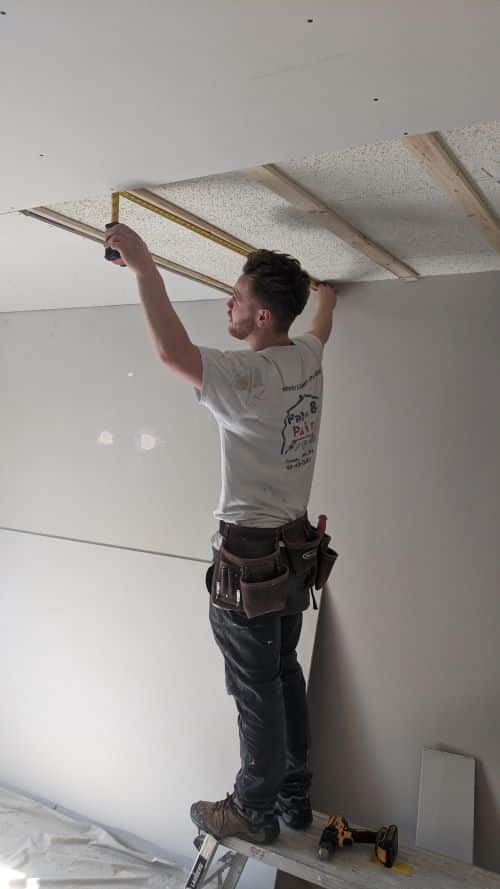 Our drywall contractors and house painters can have your house looking like new in no time. They can handle wallpaper removal, drywall and plaster repairs.

Satisfaction Guaranteed!
Looking for a painting company near 19010? You found the right company. We believe that we are guests in our clients' homes and we pride ourselves on dispatching friendly painters and that work well around children and pets. Our painting crews always arrive on time and clean up before leaving.
Give us a call or Request a Free Estimate Online!
Free Drywall & Painting Estimates
(484) 483-3468
Voted Best Painting Company in Bryn Mawr
When you hire the us for your interior house painting needs you can trust that you're in good hands. Patch and Paint Pros has earned the service industry's coveted Angie's List Super Service Award again, reflecting another exemplary year of service.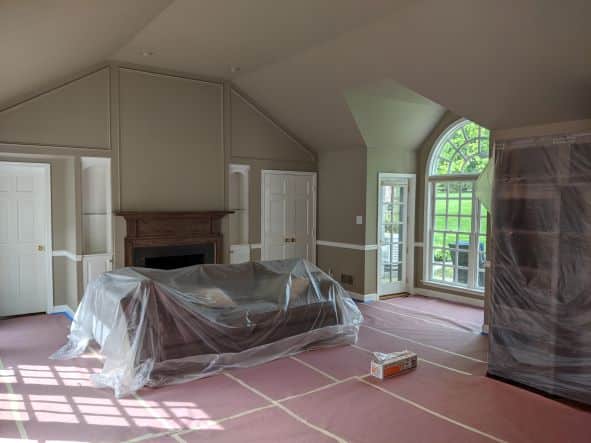 This coveted award is only awarded to 5% of paint contracting companies in the Montgomery County, PA area and winners must meet strict eligibility requirements. Patch and Paint Pros has been providing quality painting services near Bryn Mawr for years; including Villanova, Haverford, Rosemont and other nearby areas. 
Give us a call today (484) 483-3468 to schedule your free estimate and find out why your neighbors think we're the best painting company near Bryn Mawr 19010!
Bryn Mawr Painter Reviews
This is the second time we've used PPP. Ken was prompt at giving an estimate, and we were given a specific week because of company coming. Andrew did our painting and was very professional and made sure we were happy with the results. We would highly recommend Patch and Paint Pros! – Judy H. (Bryn Mawr, PA 19010) – Yelp Review
He painted the master bedroom. The room had been dark green and went to a light tan with two coats of paint. The painter was quick and very neat. He told me what brand and quality of paint to buy (in order to cover the dark color in two coats.) Everything went well. He was caught in traffic and a little bit late, but he called and told me when to expect him. He was very helpful and seemed like a really nice guy. I would definitely use him again. – Review by C. M. (Bryn Mawr, PA 19010) – Angie's List Review
Ryan and his staff painted our kitchen, dining and living rooms, and 3 other rooms before we moved in last summer. Ryan came in to give an estimate and spent a good amount of time measuring and discussing the work to be done. He emailed us a quote that night and his was best out of 3 other ones from other mainline painters. After the work was done, he returned to patch up areas damaged by movers without extra charge. He and his employees were courteous, easy to deal with, and finished the work on time. I really thought he gave us a great deal for the amount of work done and we are very happy with the result. Will call him again when we are ready to redo the 2nd floor. – Review by Amy V. (Bryn Mawr, PA 19010) – Yelp Review
Drywall Repair & Restoration
Patch & Repair Holes
Drywall Installation and Replacement
Popcorn Ceiling Removal
Textured Ceiling Replacement
Wallpaper Removal
Accent Walls
Two Story Interior Painting
High Ceiling Painting
Best House Painters near Bryn Mawr
Patch and Paint Pros is located right across the river in Conshohocken, PA. Our team of experienced house painters always deliver quality results.
We have provide quality drywall and painting services to hundreds of residents in Bryn Mawr, Radnor, Haverford, Lower Merion Township and the surrounding 19010 area.
Paint Stores near Bryn Mawr:
Sherwin-Williams Paint Stores
526 Lancaster Ave, Haverford, PA 19041
Phone: 610-519-9000
2525 Haverford Rd, Ardmore, PA 19003
Phone: 610-896-8588
Ricciardi Brothers – Benjamin Moore Paint Store
2340 Haverford Rd, Ardmore, PA 19003
Phone: 610-642-3223
---
Bryn Mawr Painting Company Photos – 19010
Check Out Some Photos of Our House Painting Near Bryn Mawr
estimates@patchandpaintpros.com
Patch and Paint Pros LLC
263 E Elm St, Unit B
Conshohocken, PA 19428