Patch and Paint Pros is a painting company near King of Prussia PA. We understand that it is important to choose a house painter that you can trust to invite into your home.
Professional Painters
That's why we only hire the most professional painters that will arrive on time and treat your home as they would their own. They will be sure to protect the floors and furniture before any prep or painting begins.
Locally Owned & Operated
Patch and Paint Pros was started over 10 years ago by local a Conshohocken resident, Ryan Owsiany. No big franchise or call centers here. Learn more About Us to find out why Patch and Paint Pros are the best painters near King of Prussia.
estimates@patchandpaintpros.com
Patch and Paint Pros LLC
263 E Elm St, Unit B
Conshohocken, PA 19428
Top Rated House Painters
We are dedicated to being the top rated painting company near King of Prussia. Good communication, detailed estimates and clean job sites helps Patch and Paint Pros deliver quality painting projects all around Upper Merion Township.
Clean Job Sites
Patch and Paint Pros crew takes pride in going that extra mile to cover and protect your belongings before we begin any painting or drywall project near King of Prussia.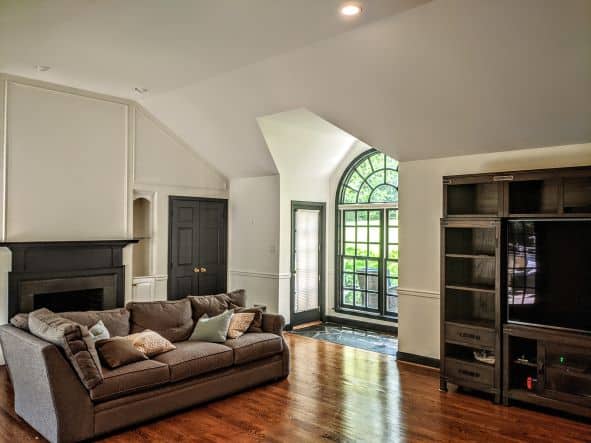 Nearby Service Area
We have provided painting services to numerous clients around the King of Prussia area, including Valley Forge, Eagleville, West Norriton, Gulph Mills, and Wayne.
See for yourself why Patch and Paint Pros is King of Prussia's Best House Painter.
Call us today to schedule your free interior painting estimate.
Painting Company Reviews near King of Prussia:
"Patch and Paint Pros patched two spots on our ceiling, repaired damage and painted the walls in our staircase, painted our front window, and smoothed out and painted uneven spots on our ceiling. We were very impressed with Patch and Paint Pros from the beginning.
We called a number of companies beforehand but this one stood out. Honest, up-front, and great pricing too! They are always professional over the phone and in person.
They provided us with a detailed estimate in writing shortly thereafter. When we decided to go ahead with the work, we were fit right in a few days later. Kenny and Richie arrived on time and ready to go.
They were very friendly. They took extra care to make sure that our carpets and furniture were well-protected. We thought we had the paint for the stairs, but upon opening the can, they found that we'd used krud kutter to dry the paint out. They rolled with it and went out to find the paint that matched the rest of the room. They went above and beyond to make sure the job was done well and better than we expected. We are pleased and will definitely use their services again."
– Sarah and Brad H. King of Prussia PA 19406 (Review – Angieslist)
Free Painting Estimates King of Prussia PA
(484) 483-3468
Professional Painters in King of Prussia
As a local painting contractor in King of Prussia, we aim to be the most professional painters in the business. It starts with good communication. This is one of the things that we assure all our clients. We take responsibility for our work and also ensure that we are delivering the best quality painting services.
Top Rated Painting Service
Here at Patch and Paint Pros, we believe our work speaks for itself. We strive to keep your house clean, complete the work in good time and deliver the best King of Prussia painting services possible.
Patch and Paint Pros has over 100 – "A" Ratings on Angi.com for providing top rated painting services near King of Prussia.
Wallpaper Removal
Interior Painting
Accent Walls
Two Story Painting
Custom Color Painting
Drywall Repair Experts near King of Prussia
Patch and Paint Pros can assist with more than interior painting. We also offer a variety of water damage repair and drywall services to Montgomery County residents.
Drywall Repair
Water Damage Repair
Ceiling & Wall Repair
Drywall Installation
Basement Finishing
Popcorn Ceiling Removal
Trim Installation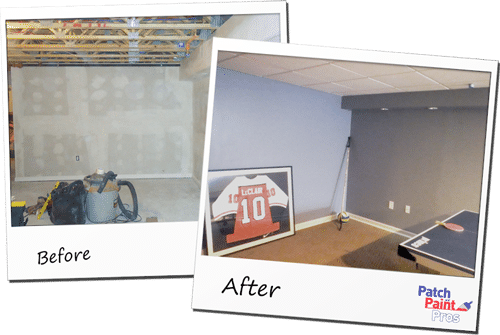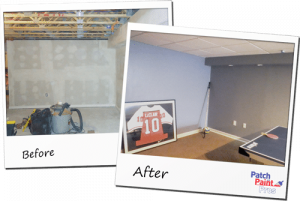 Reliable Painter in King of Prussia
Choose a King of Prussia Painting Company that you can depend on. Call Us today to schedule your drywall repair and interior painting consultation.