19003
Patch and Paint Pros is a licensed and insured Ardmore Painting Company. Looking for a painting company in Ardmore? Look no further! Our team of professional painting contractors and drywall repair specialists are available to help with your home improvement projects. Patch and Paint Pros offer a variety of painting and drywall services to Ardmore residents including drywall repair, minor plaster repair, trim installation and water damage repair. Choose an Ardmore interior painting company you can depend on. Call us today to schedule your drywall repair and interior painting consultation.
Our experienced painters specialize in residential painting and drywall repair services. Let us help make your house feel new again.

Ardmore Home Painting Services
If you are looking for the best painting company in Ardmore you've found us. Our residential painters are available to come into your home and touch up your walls, change the color of your existing paint trim give us call today. Our trained paint professionals are available seven days a week. In addition to paint contracting services, we also have wall repair contractors on staff and a team of skilled water damage repair specialists available to remove and replace water damaged walls, and drywall ceilings.
Award Winning Paint Contractor
Patch and Paint Pros is an award winning paint contractor. Our residential painting service was recognized by Angie's List and we won the award for Superior Service. As the best painting company in town, we believe our reviews speak for themselves. Check us out on Yelp! to see why your neighbors agree that the Patch and Paint Pros are by far the best painters in Pennsylvania. With five stars and positive reviews on Angie's List, Yelp! and YellowPages call today and find out for yourself why we're an Ardmore painting company you can trust!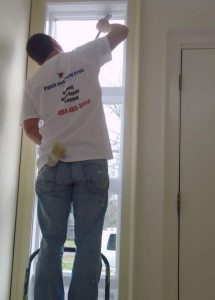 Choose an Ardmore Painting Company you can Trust.

Call Us Today to Schedule a Free Painting Estimate.
(484) 483-3468
Painting Company Services 19003
Residential Painting
Interior Painting
Exterior Painting
Accent Wall Painting
Interior and Exterior Home Painting
Plaster Cracks or Water Damage?
No worries, we can fix that too!
Drywall Repair
Drywall Crack Repair
Water Damage Repair
Plaster Repair Installation
Nail Pop Repair
Wallpaper Removal
"…If you are considering painting your home; you have to meet Ryan. He is professional, always on time and very cost efficient. He listened to everything we wanted to accomplish … The gentlemen that work with him were very respectful of our time, our home, our children and our pets. The end result was beautiful! "

Review Written by Al and Danielle S. 2013 – Wayne PA (angieslist.com)
Check out pictures from their home painting project…
Free home painting estimates for Ardmore, PA 19003 residents and the surrounding areas
Not in Ardmore? Click to View Our Other Painting Service Areas
Need Inspiration? Check Out Some Photos of Our Interior Painting & Drywall Repair Services