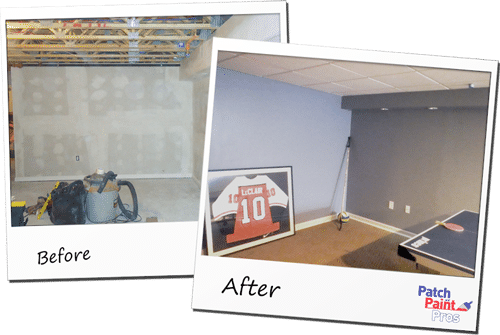 Getting ready for an upcoming painting project? If you want your project done right, you need a hard-working, reliable residential company. Look no further than Patch and Paint Pros, the local source for residential painting and drywall repair services.
Located in Conshohocken, PA, Patch and Paint Pros only employs hardworking residential painting contractors with loads of experience and a passion for customer service.  You can count on us for an assortment of services including:
Free Residential Painting Estimates
Call Now: (484) 483-3468
---
• Drywall Repair
• Drywall Crack Repair
• Water Damage Repair
• Plaster Repair Installation
• Nail Pop Repair
• Wallpaper Repair
• Residential Painting
• Interior Painting
• Exterior Painting
• Accent Wall Painting
• Don't see it? Just ask!
---
A Residential Painting Company you can rely on
Over 95% of our work is residential and our happy customers have plenty to say! Here's just one Yelp review from a happy customer:
"A friend of mine recommended Patch and Paint Pros last September when I was looking for painters to repair a back bedroom that had peeling paint everywhere due to old plaster walls. I called Ryan, of Patch and Paint Pros for an estimate for the job. He gave me a reasonable estimate, better than another painter, and also gave me an estimate to paint most of the interior of my house with a 10% discount. I decided to do the entire house. These guys were unbelievable!! Always showed up on time, and most times I would leave the key for them so they could let themselves in and out while I was at work. They did an amazing job and I swear they left my house cleaner than it was before they did their painting!! They always vacuumed up and wiped everything down at the end of each work day even though they would be coming back the next day. In addition, I have 2 dogs and they were wonderful with the dogs too. I had some problems with the paint cracking in the "trouble" room several times and Ryan came back at least 2 or 3 times to repair the cracks. This cracking problem was not the result of their painting job but due to the fact that the house is very old and the plaster may be beyond repair. Anyway, almost a year later, Ryan and his team fixed the cracks yet again and they didn't charge me anything. If you are looking for reliable, trust worthy painters I highly recommend Patch and Paint Pros. They are the BEST!" – Rick R., Ardmore, PA
In addition to the reviews that help us maintain a 5-star rating on Yelp, we've also received plenty of praise on Google, Facebook, and Angie's List! Angie's List has even awarded us with the Super Service award! We like to think these results speak for themselves.
---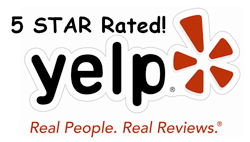 At Patch and Paint Pros, we take the time to provide you with a free, detailed estimate. This is a feature our happy customers appreciate. There are no surprise charges and no hidden nickel-and-diming fees. That's why our reputation is that of a first-class residential painting company serving the Greater Philadelphia Area.
We believe in helping our customers make their dream come true. If you want to talk to a painting expert or set up an appointment for a FREE estimate, just give us a call at (484) 483-3468 or fill out the  form on our contact page.
---