Interior & Exterior Painters
Patch and Paint Pros is one of the top rated house painting companies in the greater Main Line area. Our experienced team of drywall contractors and painting mechanics can handle any size job.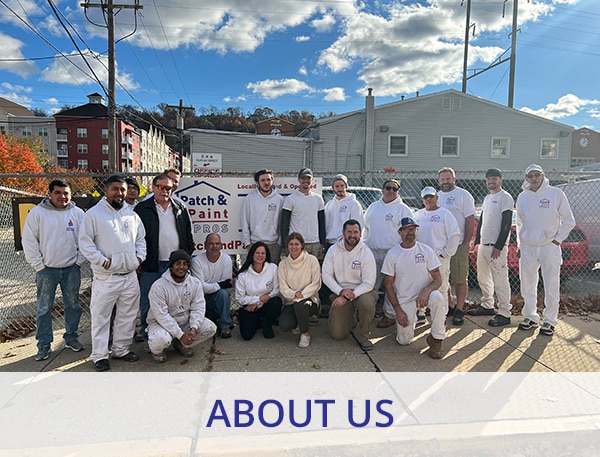 We provide professional painting services to the nearby Montgomery, Chester and Delaware County areas. Give us a call today to request a free painting estimate.
484-484-3468

Best House Painting Companies
Looking for the best house painter around?
Look no further, Patch and Paint Pros has received over 40 straight A Ratings on Angieslist in the last two years. Our professional house painters know what it takes to deliver a high quality finish.
Professional House Painting
Our professional house painters can have your home looking like new in no time. Call today to request a free estimate.
484-483-3468
Our professional house painters can have your house looking like new in no time!
"I have used this business on twice. I am very meticulous but these people made me look like a picker compared to their attention to detail. Ryan is very friendly as are all of his worker. They go out of their way to make sure that you are totally satisfied. I highly recommend using this service and their prices are extremely reasonable. Do it!"
Roger C – Conshohocken, PA (Google Review)
"I had an excellent experience with Patch and Paint Pros. The owner came out promptly and gave me a thoroughly detailed estimate for the work I wanted to have done. After deciding on some changes, the quote was rewritten and Andrew led the crew to make the repairs. A last minute addition to the plans was easily accommodated and the process went very smoothly. I couldn't be happier with the results, I am definitely going to use this company again in the future."
Dan R. (Google Review)
House Painting Estimates
House painting estimates are always free and can be scheduled Monday to Friday, 8a-6p. Please call for more details.
Detailed Painting Estimates – Every estimate is broken down by Room and lists Repair Work and Painting separately. Please call today to schedule a free house painting estimate. Or visit our new Painting Photo Gallery to see some of our recent work.
House Painting Companies Near Me?
Looking for house painting companies near you? We service the following towns and other nearby areas.
Please call if there area any questions.
One of our professional painters would be happy to discuss your next painting project in more detail. Give a call call and we can review the scope of the project and determine the best way to proceed with your house painting project.
484-483-3468