The roof of this Conshohocken home was damaged during Hurricane Sandy. The high winds of the storm ripped some of the shingles off of the roof, allowing water to leak into several of the homeowner's rooms. The water then settled into the ceiling and walls of the bedrooms, destroying the plaster and drywall.

The Patch and Paint Pros were called into repair the damaged plaster ceilings. The water damaged plaster was removed and replaced with drywall. For limited budgets, only repairing part of the ceiling can help keep repair costs down.

Ceiling Repair Hint:
After having work done on a roof or siding, hold off on interior repairs. It's best to wait for a heavy rain to inspect for any leaks. This ensures the drywall repairs do not have to be done twice.  Call if you have any further questions about water damage or ceiling repair,  484-483-3468.
Homeowner's Hints:
Plaster walls have a limited lifetime. Over years it begins to sag and crack, eventually causing a major eye sore, Typically when a plaster ceiling has been damaged by water, it's a good excuse to replace the entire ceiling before it becomes a serious issue in your home.
If you have plaster walls and need any plumbing or electrical work done, it's a great ideal to replace the plaster and drywall at the same time. This will give the electricians and plumbers easy access to the plumbing and wiring, saving the contractors  a great deal of time on the project.
To further your savings, have your drywall contractor also install thicker insulation to increase your home efficiency and reduce monthly costs. This can be a huge saving on your monthly electric bill.
The Paint:
Girls Bedroom Color: Valspar Lilac Whisper #4003-9A (satin finish)
Master Bedroom Color: Valspar Simply Subtle Pink #2006-8C (satin finish)
The ceiling paint is  Valspar Ceiling paint in a flat finish.
---
Do you have an unsightly water damaged ceiling or drywall?
484-483-3468
---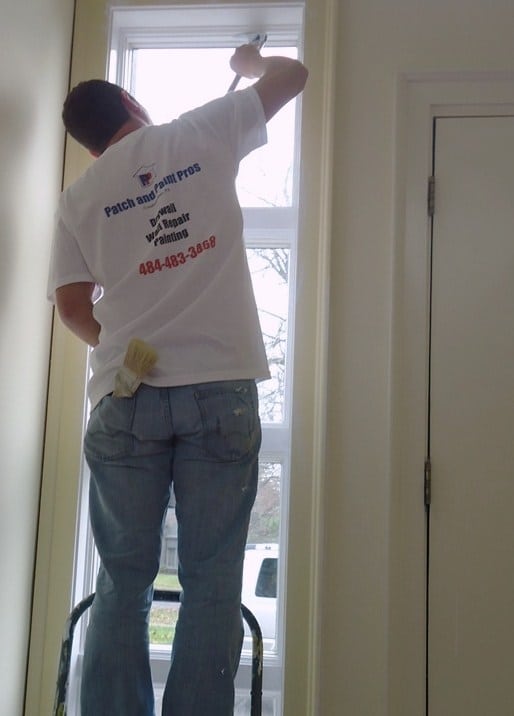 Ceiling Repair Contractor – About Us:
Patch and Paint Pros is a Conshohocken wall repair and painting company that specializes in Water Damage Repair, Drywall Replacement and Interior Paint. As a local Conshohocken company, Patch and Paint Pros believes in providing a high quality service at a reasonable price.
They also work with their clients to help save money in the future by increasing home efficiency and consolidating home improvement projects with other contractors. Licensed and Insured. Contact us(link to contact page) today to schedule your free ceiling repair estimate today.
Water Damage Repair Services
Ceiling Repair
Plaster Wall Repair
Water Damage Repair
Drywall Repair and Replacement
I hired Ryan to do some patch work repair I had some very old plaster ceiling that was chipping and cracking.  His guys came in patched and primed the ceiling in a few hours and did a great job.  They came prompt right when he said he would and left without leaving a trace.  Will use him again and recommend to my friends. Greg F, Villanova
 (Read more Reviews on Yelp!)

484-483-3468