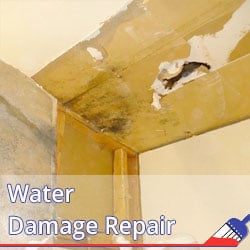 Chances are, if you've found this page you've got an ugly water spot somewhere in your home. It might start as a small, ugly spot on your ceiling or wall that slowly grows over time but what you can't see is the damage that is occurring behind the drywall. Like the tip of an iceberg, by the time you spot the signs of water damage it's already too late.
Keep reading to learn what causes water damage, how to minimize additional damage and replacement costs, and what options you can take to remedy the situation and repair your damaged drywall.
What Causes Water Damage?
Water damage occurs when excess water begins to collect in areas where it shouldn't. There are many different factors that can lead to excess water and cause to water damage. When you know what to look for and aware of the potential causes, you can help prevent damage against future leaking or flooding. You will also be able to quickly spot a problem as soon as it arises and address the situation promptly before the water damage worsens and the problem spreads. The more quickly you notice a leak, the more easily the problem can be remedied and the less work a water damage restoration company will have to repair (translating into savings for you!)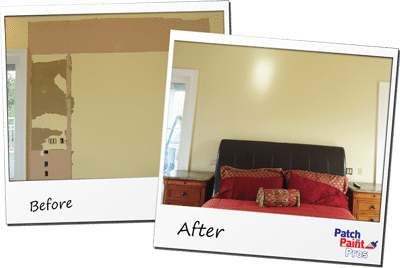 Causes of water damage include:
Bursting or leaking pipes
Plumbing Issues
Moisture buildup in areas prone to collecting water like crawl spaces, attics and basements
Faulty, malfunctioning, or older household appliances
HVAC (Heating, ventilating and air conditioning units) issues
Natural disasters and weather-related problems
What to Do If You Have Water Damaged Drywall
Depending on the severity of your drywall water damage, it may not be necessary to replace your drywall after a flood or leak. In the extent of the severe damage or damage covering a large section of a wall or ceiling, contact a professional for help as there may be structural damage to your home. Additionally, if you have water logged drywall or a continuous leak, it is extremely important that you take action before mold or mildew develop. Mold spores in the air can be very dangerous to your health and untreated mold and mildew can cause even more damage to the structure of your home.
At The First Sign of a Water Damaged Wall or Ceiling Take These Steps
Assess the damage
Attempt to dry the area and use a humidifier
Repair the cause of the leak
Repair or replace the affected areas
When in doubt, call a professional
Drywall Water Damage Detection
First, you should determine the extent of the water damage to your drywall. Drywall water damage can appear as softened or discolored areas on your wall or ceiling. If the drywall water damage is widespread you need to call a professional restoration company; however, if the water damage only affects a small area and you have drywall experience, you may be able to replace the drywall yourself.
Mold and Mildew as a Result of Drywall Water Damage
The most important aspect of remedying drywall water damage is to prevent additional damage from mold or mildew. Mold and mildew occur most frequently when damp drywall sits with inadequate ventilation. Regardless of the location or extent of the damage, we advise using dehumidifiers, industrial fans, or similar machines that can move a large volume of air for maximum ventilation. Standard household fans are not capable of moving an adequate amount of air needed to dry a room adequately.
If you do not adequately dry the drywall paneling, mold and mildew may develop, which is very dangerous. If you notice any black spots, discolored soft spots, or if the area is emitting a foul odor, contact a professional immediately. Even if there is no visible mold or mildew on the exterior of the drywall, the interior may be teeming with spores that can be very dangerous for your health. If you are unsure whether or not you have mold or mildew, call a professional to check it out. At Patch and Paint Pros we do free estimates and can help you with this. Give us a call any time (484)483-3468.
Steps to Prevent Drywall Water Damage
Even if you do not currently have water damaged drywall, there are a few things you can do to prevent serious damage stemming from small leaks that grow over time. Once a month we recommend that you do a check on your plumbing, basements, crawl spaces, and attics to spot small issues before they become costly nightmares.
Damaged and/or Rusted Pipes
Pipes that burst or leak are common culprits of water damage. Be sure to replace any old or rusty pipes because they are more prone to breaking and leaking. Drains and toilets that become clogged or blocked can cause undue pressure in the pipe, which then causes it to leak or burst.
Plumbing Problems
Some plumbing issues occur inside the walls and can be difficult to detect. Typically this is caused when pipe joints and hoses become disconnected or are not tightly, or appropriately connected. (Many times this occurs due to a previous DIY repair) Periodically checking under your sink and around any exposed plumbing for small leaks or water spots can help mitigate any future plumbing disasters.
Basement, Attic, or Crawl Space Concerns
Certain sections of your home such as crawl spaces, basements and attics are much more prone to water damage. Dark, damp crawl spaces can be a haven for mold and mildew, which is turn can then cause structural damage as they flourish. The concrete foundation of your home can cause leaking in the basement if there is moisture dripping through it. Condensation in the area between the attic and your home can cause moisture on the underside of the roof, which can lead to mold and rotting. When checking your home for potential causes of water damage be sure to look out for moisture in light fixtures as well as the overall condition of any noticeable piping.
Malfunctioning Household Appliances
As household appliances get older, their pipes may begin to crack and rust and their hoses or connections can weaken as the materials age. Refrigerators, water heaters, washing machines and dishwaters are all have many parts that are susceptible to deterioration, so keep a careful watch on older models. The two biggest culprits for water damage in homes are washing machines and hot water tanks.
HVACs (heating, ventilating and air conditioning units)
HVACs are also common cause of water damage. Air conditioning units require regular maintenance, and when not properly serviced can cause moisture to build up. When this moisture cools, it can encourage mold growth by interacting with mold spores and encouraging mold and mildew growth in the air conditioning ducts.
Natural Disasters and Weather Related Water Damage
Although you have no control over natural water-related disasters, you can prepare ahead of time to minimize their damaging effects on your home. In the event of a flash flood, sudden storm or hurricane prompt attention by calling a water extraction company will help lessen the time for water damage to occur.
When in doubt, call a professional water repair company like the Patch and Paint Pros. Reputable water damage drywall repair companies have the expertise and equipment to handle and repair any kind of wall or ceiling issues arising from water damage to your home. For more information about drywall water damage or what to do about it, give us a call today and we'll be happy to answer any of your questions. (484) 483-3468.