Patch and Paint Pros is a wallpaper removal and painting company in Conshohocken, PA. Their crew of professional painters have years of experience removing all sorts of wallpaper. Once the wallpaper is removed, the walls will be primed, patched and painted in no time!
Wallpaper Removal Services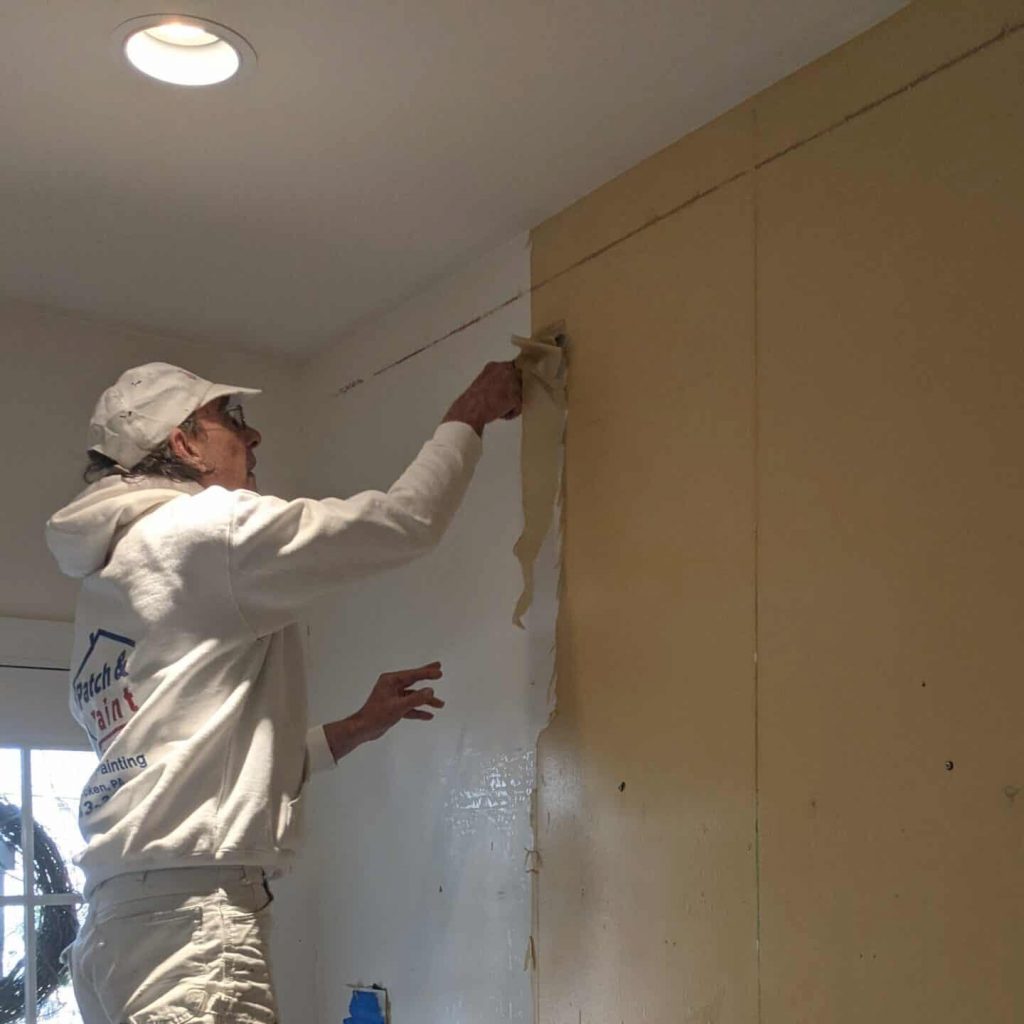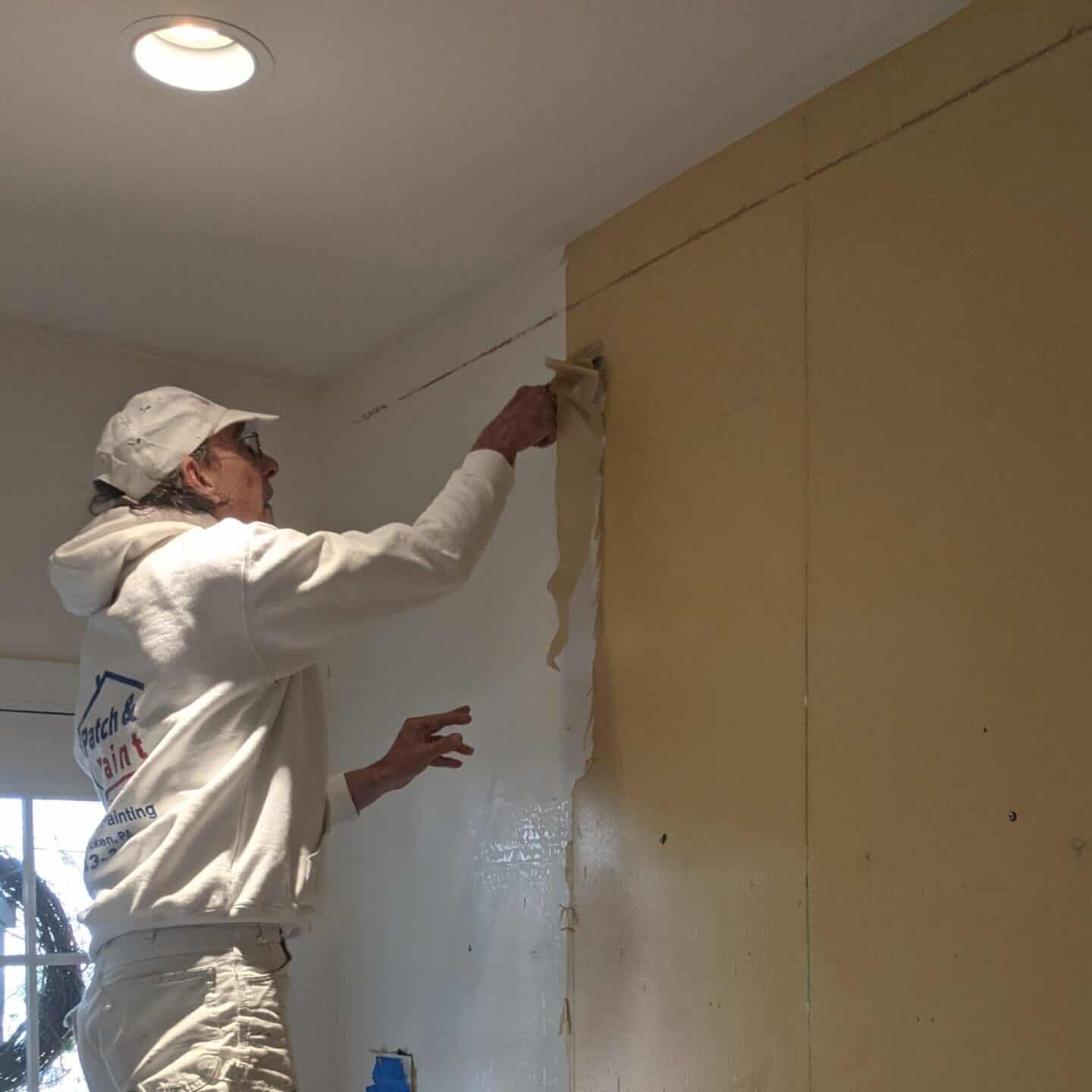 Setup
Wallpaper removal is a multi-step process. On day 1, the painters at Patch and Paint Pros will setup the room, put drop clothes on the floors and cover all furniture with plastic. Once the room is setup, the wallpaper removal can begin.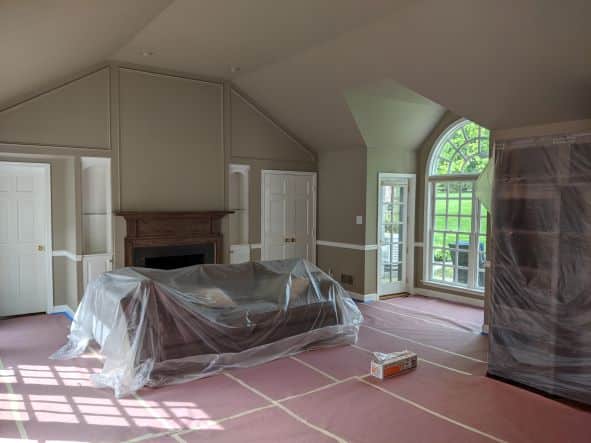 Wallpaper Removal Prep
For most properly installed wallpaper, water is all that is needed to remove the wallpaper. The true key to removing wallpaper is patience. It takes time for the water to get absorbed into the wallpaper and loosen up the wallpaper glue.
Removing the Wallpaper
After a couple hours of wetting down the walls, the wallpaper will be scrapped off. Sometimes it comes off in full sheets. Other times, it comes off in tiny pieces. Patch and Paint Pros budgets for the average time to remove wallpaper. Once the wallpaper has been removed, any residual wallpaper glue will be removed prior to priming the walls.
Multiple Layers of Wallpaper
It's impossible to tell if there are multiple layers of wallpaper before you start removing the first layer. If there are multiple layer of wallpaper, the crew will notify you that the project may take some additional time. To avoid any surprises, a test area can be peeled away to see if how many layers there are to be removed. (behind a faceplate or picture on the wall are good test areas)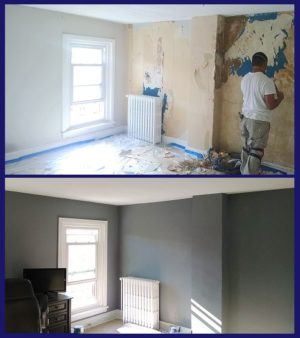 Priming after Wallpaper Removal
Once all the wallpaper and glue has been removed, the walls need to be primed with an oil primer to lock in any trace amounts of glue left over. If you do not prime the walls, the old wallpaper glue may mix with the latex paint and leave an uneven finish. For more information on prepping walls, check out this article from Sherwin-Williams on wall prep after removing wallpaper.
Wall Repairs
Patch and Paint Pros specializes in ceiling and wall repairs. Their crew of experience painters will repair any scratches and defects caused by the wallpaper removal process. Typically the walls of a room can be repaired within a day.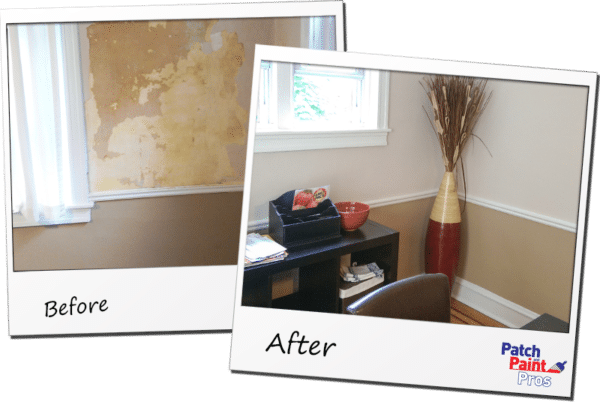 Painting
After the wallpaper has been removed, walls primed and patched, it is now time for painting. Patch and Paint Pros will spot prime any repairs prior to applying two coats of a high quality paint from Sherwin-Williams or Benjamin Moore.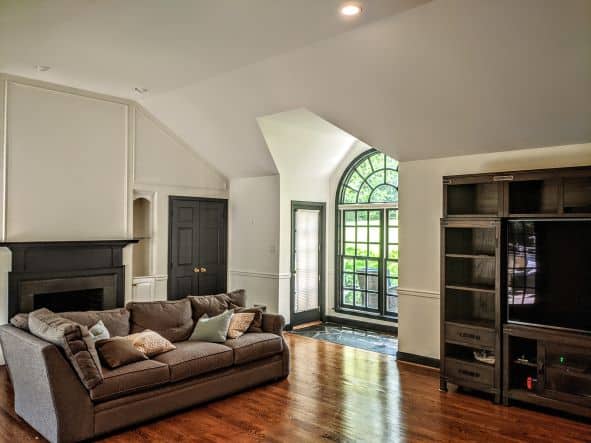 Wallpaper Removal and Painting Projects
Wallpaper removal and painting projects typically take about 3 days for a standard size bedroom, dining room or kitchen.
Day 1 – Remove Wallpaper
Day 2 – Priming and Patching
Day 3 – Painting
Larger rooms, such as a two story foyer or large living room, may take about a week to complete per room. For projects with multiple rooms needing wallpaper removal, Patch and Paint Pros can have a large crew on site to help get the project completed in a timely fashion.
Detailed Estimates
Patch and Paint Pros wallpaper removal and painting projects start off with a detailed estimate. All estimates include pricing per room, with line items for repair and painting services. This allows for an easy review of all costs included in the project and also provides a detailed project scope for the crew to do the work.
Request a Wallpaper Removal Estimate
Wallpaper removal and painting estimate can be scheduled Monday thru Friday, 8am to 3pm. Call today to discuss your upcoming project or request an estimate online.